Hot Asphalt Storage Systems
BG Europa (UK) Ltd offer a range of hot asphalt storage systems:
FMA ULLRICH Gmbh & Co KG
HOT ASPHALT STORAGE SYSTEMS FMA ULLRICH GmbH & Co KG FMA Ullrich has been building hot-mix storage-systems for Bituminous Road Construction for over 50 years. During this period, they have produced over 1700 Ullrich Silos for the European, Middle Eastern, Asian and African markets. The range of stationary hot-mix storage systems allow customers to store asphalt either to expediently...
Read More...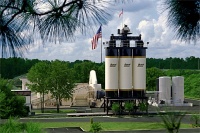 Astec HMA Storage Silos
Astec HMA storage silos have many advantages not offered by competitors. Producers can store mix up to four days with Astec's unique silo design. With these storage devices, producers achieve increased efficiencies through longer production runs and provide higher service levels to their customers by having a range of mixes on hand for sale. In storage mode, the silo is completely sealed...
Read More...